2020 / 112m - Canada
Fantasy, Adventure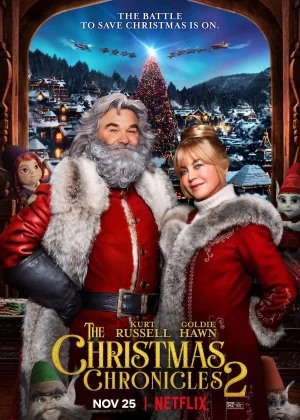 I can't say I remembered too much from the first film, apart from not liking it very much. Some of the characters returned for this sequel, though Chronicles 2 feels more like a typical Christmas film, whereas the first was somewhat of an oddball film that tried to give a new twist to the whole Christmas vibe. That's what you get when you get Chris Columbus involved I guess.
Belsnickel was once one of Santa's favorite elves. He turned bad though and was banned from Santa's Village. Belsnickel devises a plan to get back in, for that he seeks out Kate, one of Sant's True Believers. His plans succeeds and Santa will need the help of Kate again to save Christmas.
The animation is mediocre, the kids are extremely cringy and Russell is a rather poor Santa. For all its cheep cheese though, Chronicles 2 is slightly more palatable than the first film. While it doesn't even try to do anything different, it at least brings some standard Christmas atmosphere. I hope this is the last in the series though.