Mirai Shônen Konan Tokubetsu-hen: Kyodaiki Giganto no Fukkatsu
1984 / 49m - Japan
Animation, Adventure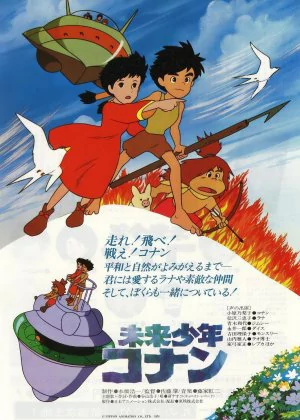 Made in the same year as Nausicaa, this compact Conan the Future Boy film signaled the talent that was about to blossom. Miyazaki wasn't quite there though. While a fun and amusing little film, the animation, his usual eye for detail and the pacing weren't up to par with his later work.
This film is a compilation of the final episodes of the TV series, though the plot is easy enough to follow without having seen the series. It's a simple good vs bad guy story, where Conan has to save the world from an evil empire that tries to get their hands on an almighty weapon. Nothing too out of the ordinary there.
The art style is rather basic, so is the animation, but that's no surprise considering the film's TV roots. The Big Giant Robot's Resurrection is littered with the usual Miyazaki traits, and it already holds a lot of what would make a film like Laputa so great. Interesting for those who love Miyazaki's films and are wondering how it all started for him.