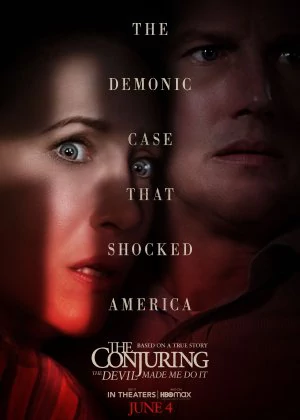 I wasn't expecting too much from this third part, looking at the previous Wan-verse films it seems the formula is running on its last legs. I didn't really like Chaves' earlier film either, so maybe that's part of the reason why this turned out to be a pretty solid entry in the Conjuring franchise.
This third film has Ed and Loraine solving another case. After the exorcism of David Glatzel, the demon jumps into the body of Arne Johnson. Things settle down, but only for a short while. It doesn't take long before the demon starts manifesting himself through Arne, killing a local dog pound owner.
Chaves jumps right into the action and doesn't really slow down. It's nice to see a film that forgoes the slow build-up, it's equally nice to see Chaves play around with the timing of the scares, making them actually somewhat scary and unpredictable again. The film looks pretty nice, performances are solid and the pacing is on point. It's nothing you haven't seen before, but if you love the Wan horrors, this one is pretty good.