Côpusu Pâtî
2015 / 93m - Japan
Horror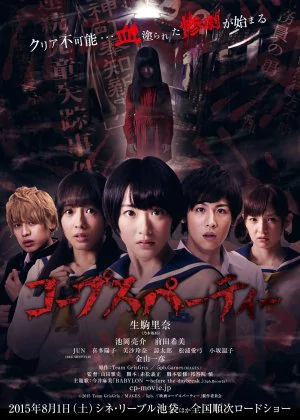 A Japanese horror film based on a game franchise doesn't immediately spark high expectations, but with Masafumi Yamada in the director chair, I was quite curious to see how this would pan out. Corpse Party was certainly a lot more graphic than I had expected it to be, other than that it's a pretty standard genre flick.
A couple of students are cleaning up their classroom. They realize they probably won't see each other again after this, and so they chant an incantation to keep their friendship alive. The incantation isn't as good-natured as they'd hoped, and before they know it they're stuck in an alternate reality where they're hunted down by some rather violent ghosts.
A couple of Japanese high school students trapped in a school building, if you've watched some Japanese horror films it's not something you haven't seen before. Luckily, the kills are pleasantly over-the-top and some shots are pretty awe-inspiring. Not enough to make this an instant classic, but if you're looking for some fun horror filler, Corpse Party does the trick.