Hakkyousuru Kuchibiru
2000 / 85m - Japan
Horror, Comedy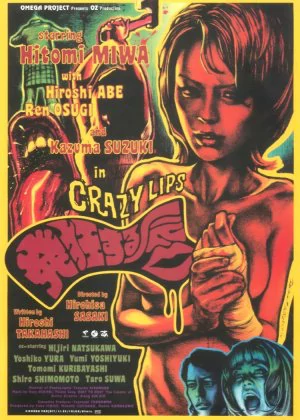 Not quite as out there as Visitor Q, but Crazy Lips offers some hardcore Japanese weirdness that is sure to appeal to the same group of fans. A messed up mix of comedy, action, pinku and horror, there's even a musical number to make the madness complete. Don't expect this film to make any sense, Sasaki aims for full-on crazy and perverted entertainment.
A sister tries to protect her brother, who is a suspect in a murder case. She hires a couple of clairvoyants to help solve the case, but when they arrive on the scene things start to spin out of control. What follows is a accumulation of depraved hilarity that gets weirder (and better) by the minute.
Even though Crazy Lips is extreme niche material, it's nice to see actors like Hiroshi Abe and Ren Osugi make notable appearances (not to mention, make a complete fool of themselves). The presentation is quite cheap and it's a bit too random to make a big impression, but if you're looking for something utterly insane, you won't be disappointed.