Viskningar och Rop
1972 / 91m - Sweden
Drama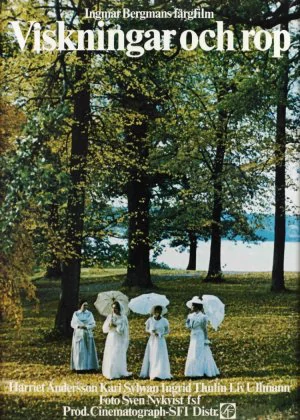 So far, the films of Ingmar Bergman haven't really impressed me much. Cries & Whispers is one of his better efforts I've seen so far, though my core complaints remain. While I don't mind a good drama film, I really can't deal with the overstated drama and the extremely expressive performances of the actors in Bergman's work.
Karin and Maria have come to take care of their sister Agnes, who is extremely ill and bedridden. While they appear very concerned about Agnes' condition, flashbacks show a history of deceit, lies and jealousy. As Agnes' condition grows worse, the cracks in the relationships between the sisters start to show.
The cinematography is pretty solid for a Bergman film, it's also the first of his films I see that isn't black and white. The performances are terrible though and the drama is completely overdone. I'm sure this film has the potential to come off very deep and emotional, but I prefer a bit more subtlety when I'm required to take characters and their issues serious.