2021 / 134m - USA
Comedy, Crime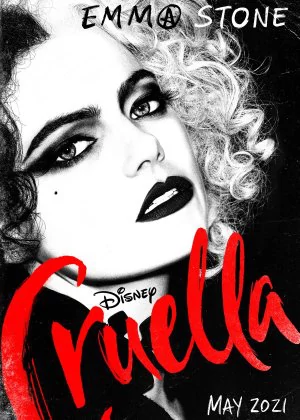 Disney continues to milk it's stable of villains. The success of Maleficent surely had something to do with it, looking at Cruella it seems we'll see a bunch more in the future. It's not the Disney version of Jokes as some weird souls have suggested, but it's a vibrant, slightly devious take on Cruella DeVil's origin.
Estella is a bit different from other girls. Her mom tries to raise her well, but her personality can't be toned down. She gets kicked out of school, messes up a fancy party, inadvertently kills her mom and ends up with two little hoodlums in the middle of London. Trying to make good of her life, she hopes to become big as a fashion designer.
The plot is decent but somewhat predictable and it's a bit of a cop-out that Cruella isn't really the villain here, but Stone thrives as Estella/Cruella, Hauser is pretty funny and cinematographer Karakatsanis really knows how to add a little extra flair to the film. The film is much better than it has any right to be, Disney did really well here.