1988 / 119m - USA
Romance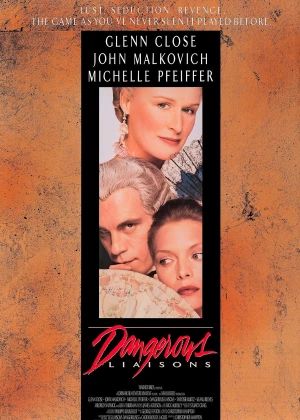 A pretty popular costume drama, with a star-studded cast, lots of romance (at least, sex and relationships, not sure how much actual romance there was), but very little beyond that. Of course, I don't really care for the setting, illustrated by the fact that I'd never even seen this film before.
Vicomte de Valmont is a charming man, so much so that a countess challenges him to mess up the upcoming marriage of her ex-husband. Vicomte obliges, but he gets distracted when he meets Madame de Tourvel, a married woman. The countess doesn't believe he can, which only makes him more determined.
Some familiar faces here, who do a pretty decent job. But I didn't care much for the characters, I wasn't really impressed with all the easy flirting and I have little love for the classic setting. Things move along quite swiftly and it wasn't that the film was too longwinded, it's just that 120 minutes is quite long if there's nothing of note.