2019 / 126m - USA
Drama, Thriller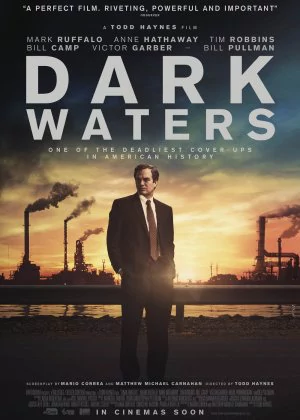 Interesting topic, not in the least because we're dealing with our own PFAS scandal some 30 km from where I live (3M is the culprit in this case). It's a pretty typical courtroom drama (with minor thriller elements and few court scenes though), elevated by Todd Haynes' rather stylish direction.
When Tennant's cows start dying by the dozens, he contacts Robert Bilott, a rather fancy lawyer specialized in environmental cases. Bilott isn't too interested in the case, but after a routine investigation into the DuPont company it appears something is seriously off. Bilott turns the case into his life's work.
Haynes delivers a very solid, stylish film. The performances are on point, the cinematography is grim, the soundtrack is fine and the pacing is perfect. A bit long at 2 hours, and the second part did start to drag a little, but as these films go it's one of the better ones I've seen so. Good work.