1974 / 93m - USA
Action, Crime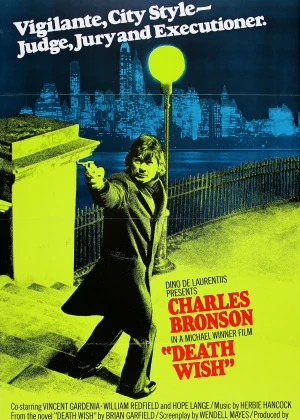 A true essential. Not because this is such a great film, but the first Death Wish does mark the start of a pretty famous franchise, and it's one of Charles Bronson's biggest legacies as an actor. The film itself isn't all that great, it is after all B-film filler, but it's not quite as bad as I expected it to be either.
Paul has a good life, but all of that changes when his wife and daughter are held captive by some criminals robbing their house. His wife dies during the attack, and the police tell Paul he shouldn't expect the perpetrators to get caught. When Paul gets hold of a gun, he sees his chance to get back at the people who ruined his life.
Bronson is a pretty bad actor and the plot is as generic as they come. The slower pacing and simple but solid direction help to give the film a bit of extra body though. It's easy enough to see how this because the first in a series of films, but if you're only seeing this film for the first time, don't get your hopes up too much.