1945 / 68m - USA
Crime, Thriller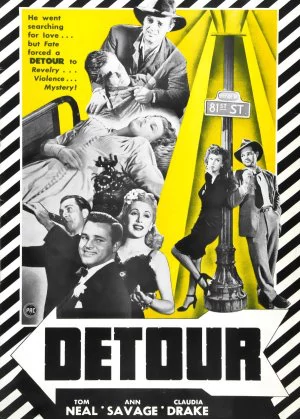 One of the best, if not the best classic noir I've seen so far. Maybe not so much due to the overwhelming technical or narrative qualities of the film, instead pacing and runtime make the biggest difference here. It feels like a condensed noir, one where all the unnecessary fat was trimmed.
The story is pretty decent too, especially the sliver of dark comedy that runs underneath it. Al Roberts is a pretty unlucky guy. All this New Yorkers wants is to visit his girlfriend in California, but when he hitches a ride and ends up with a dead driver in the car, things takes a turn for the worse.
The setup is pretty basic and the events aren't even that remarkable, but the plot is snappy, the characters are tragic (though amusing) and the film is over before you know it. No endless dialogues, no excruciatingly long and overly transparent setups and no actors that force themselves to try and act though. Simple but fun.