Kyôaku
2013 / 128m - Japan
Crime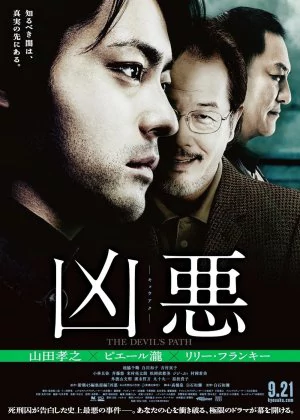 A pretty typical Kazuya Shiraishi. It's not a true Yakuza epic, instead the film focuses on a lower (but not less dangerous) gang of criminals who prey on older/needy people. It's a rather grim story with lots of unpleasant characters, then again that's what makes Shiraishi's films stand out.
A death row prisoner (Sudo) contacts a journalist, telling him he has a few extra confessions to make. By informing the journalist, he hopes to incriminate his former partner and boss, as he double-crossed Sudo and made him kill his best friend. But evidence is sparse and the journalist has to carry out his own investigation if he wants to uncover the truth.
The presentation is a little dry, but the film is carried by several stand-out performances. Takayuki Yamada, Lily Franky and Pierre Taki all are superb and give the film that gritty edge it so desperately seeks. If it had been a bit shorter and had a little extra polish this could've been a minor masterpiece, as it is now it's still a very dark and worthy crime flick.