Dong
1998 / 95m - Taiwan
Drama, Fantasy, Musical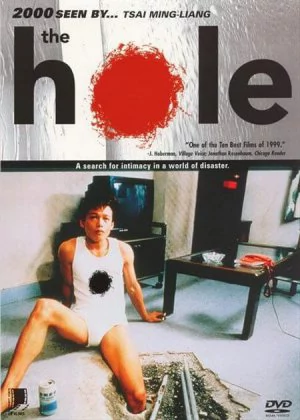 Watching back these older Tsai films, I'm amazed at how dryly absurd they are. They're not full-blown comedies, but they're certainly not just pure dramas either. I had quite a bit of fun revisiting The Hole, the biggest problem for me was the rather plain styling, which Tsai did better in some of his later films.
A pandemic is holding Taiwan hostage, while the rain won't stop falling. People are struggling to survive, more specifically, two tenants are having a hard time when a hole in the floor inadvertently ties their lives together. It's a very uncomfortable situation, but the hole also creates the potential for a new friendship.
There isn't much dialogue, the pacing is pretty slow and the musical intermezzos are somewhat random (though the lyrics do match the state of the relationship between the two). The dry/sly sense of humor is delightful though and the mix of contrasting elements is quirky. If Tsai hadn't improved his very formula in The Wayward Cloud this might still be a personal favorite, now it just felt a little too much like a try-out for his ultimate masterpiece. It's still a very good film though.