Susuz Yaz
1963 / 92m - Turkey
Drama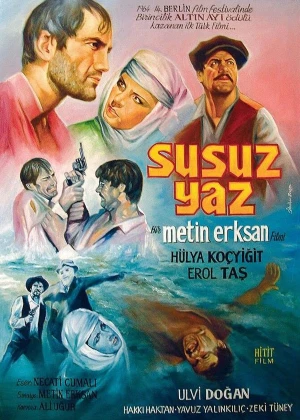 The poster may look colorful and somewhat exciting, but the actual film is a barren and dreary drama that did very little to change my perception of classic Turkish cinema. It's stylistically poor poverty porn that thrives on misery and unpleasant characters. Not really my kind of cinema really.
The coming summer promises to be warm and dry. Osman plans to dam the spring that originates on his property, so he is assured enough water to get him through the summer. The other farmers in the neighborhood are furious, because their crops will suffer, and they need a good harvest to support their families.
The cinematography is half-decent, but the black-and-white doesn't do the film any favors and it's far from refined enough to carry the film. The soundtrack is terrible, the plot depressing and the characters are horrible. Not the slowest film of its kind, but hard to recommend unless you're a hardcore fan of rural drama.