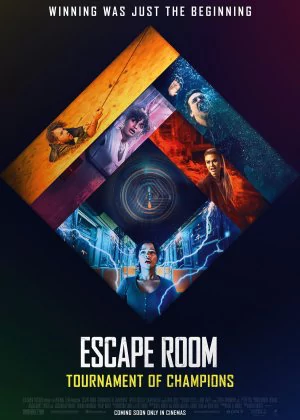 There hasn't been a lack of escape room films these past years, but few were decent enough to receive a sequel. Robitel's film turned out to be the exception, though looking at the result, you have to wonder if it was worth it. At least it's not a lazy sequel, quite the contrary. Tournament of Champions is grossly overreaching here.
After escaping the first game, Zoey wants revenge on her captors. She travels with Ben to where she thinks their base is located, but once they arrive there they're captured again, and they end up participating in another game. This time with a bunch of players that all survived their respective first bouts.
There's an entire overarching plot that's way too convoluted for a film like this. It takes away a lot of time from the traps, which means that these scenes are just an endless barrage of quickly solved clues and false tension. Escape Room 2 would've been a lot better as a simple sequel, at least the film had a decent enough budget to dish out some impressive traps. Not really looking forward to the third part though, unless it goes back to basics.