1957 / 126m - USA
Drama, Music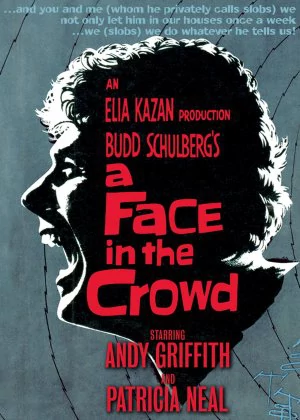 Kazan goes off on a tangent again. A Face in the Crowd isn't so much a film as it is a construct to convey a message. I say message, but I really mean some broad and coarse whining about our species. Everybody's an asshole, stupidity reins supreme and in the end, we're all suckers for taking part in the deceit.
Larry Rhodes is an absolute nobody who gets lucky. After a haphazard radio gig and an even more remarkable TV performance he suddenly makes it big. Producers and advertisers are trampling each other to exploit Rhodes' popularity, while he considers himself the next Messiah.
Big money abusing naive nobodies to influence the masses. The real question of course is whether those producing or nodding along to a film like this are any different from the people critiqued in this film. Annoying characters, bland critiques and a ridiculous runtime make for a pretty boring film.