Mo Hua Qing
1990 / 86m - Hong Kong
Comedy, Romance, Fantasy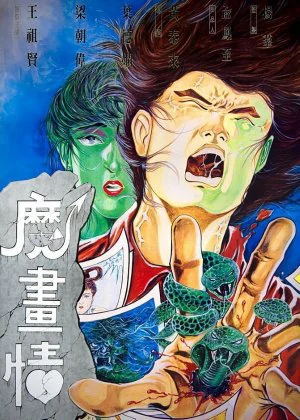 Taylor Wong made a name for himself making grittier action flicks, but in true Hong Kong fashion he also branched out to other genres. Fantasy Romance is one of the most apt film titles ever, as it is in fact a fantasy/romance flick, with some comedy to boot. It's clearly not Wong's strong point, but it's entertaining enough.
Shing is a mangaka who draws fantasy novels. On his way to his publisher he nearly crashes his car, but instead of hitting a wall he crosses over into another dimension. There he meets a ghost who looks an awful lot like the woman from his comics. She follows him into the real world, but Shing isn't too pleased with her attention.
With Tony Leung and Joey Wang there's some solid acting talent present, but since this is a comedy they're not really able to show it. The comedy isn't great and the plot is pretty basic too, but the fantasy elements are executed quite well and the pacing is solid. Just a bit of mindless entertainment, certainly not Wong's best, but not bad for someone who usually does action films.