Gwledd
2021 / 93m - UK
Horror, Mystery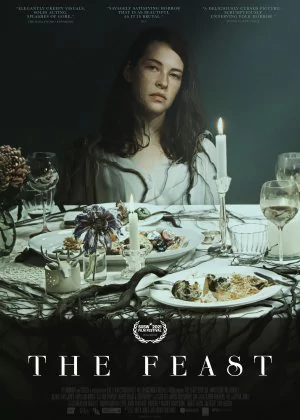 Arthouse horror dowsed in Welsh culture. The Feast is a pretty peculiar film, and even though it can get pretty gruesome and gross, it's probably not one for hardcore horror fans. The film is too slow, too ambiguous and too minimalistic, but if you're looking for stylish, off-kilter horror, this one delivers the goods.
Glenda is hosting a dinner party. To offload some work, she hires a help for the evening. Cadi arrives late, otherwise everything seems to be going according to plan. Glenda's family is a bit odd and Cadi's behavior seems a little off too, still Glenda only has one thing on her mind, and that's being the perfect host for the evening.
The build-up of the tension is skillful, the mystery is upheld until very late into the film and Elwy's performance is exquisite. The Welsh language takes a bit of getting used to (subtitles are a must), but adds to the unconventional atmosphere. There are some slight pacing issues though and the ending isn't quite as full-on as I'd hoped, but other than that a pretty great film.