2017 / 113m - USA
Drama, Thriller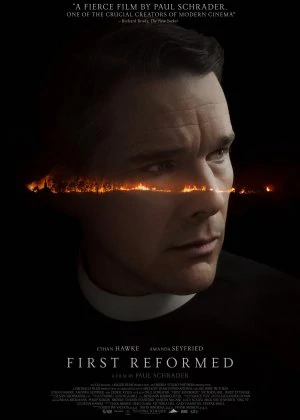 Not a happy film. Schrader's link between Christianity and environmental issues is a bit odd, I'm not really sure if it makes a lot of sense either, but as a character portrait First Reformed does impress, largely thanks to the efforts of Ethan Hawke. It's a shame the film itself isn't better.
Hawke plays Toller, a minister at a small church. There aren't many members in his congregation, but he keeps himself pretty busy. Demons in his past drive him to drink, his health is quickly declining and the suicide of the husband of one of his congregation's members pushes him to think about what the church could do for the environment.
The odd aspect ratio doesn't add much, the cinematography is bland, and the religious focus didn't really appeal to me. Hawke's performance makes the film and with the help of a sinister soundtrack his downward emotional spiral leaves quite an impact. It's not enough to turn this into a great film, but it did redeem the horrible first half.