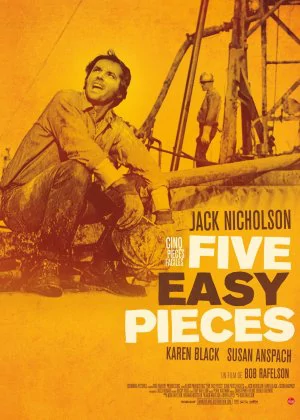 I didn't really know what to expect from this film, it turned out to be a basic regular road movie. A film that probably stands or falls by the likability of its characters. Personally, I didn't care for any of them, finding most of them either obnoxious or one-dimensional, both the leads and the secondary cast.
Bobby was raised a classical pianist, but now acts as a blue-collar worker. He hangs around with his girlfriend Rayette and his best friend Elton. When Elton gets arrested and Rayette turns out to be pregnant, Bobby quits his job and moves to Los Angeles to visit his sister. She tells him their dead suffered two strokes, urging Bobby to reconnect with him.
It's not that Nicholson does a bad job here, it's just that his character isn't very interesting. The direction is decent, but unremarkable and even though I generally like a good road trip flick, the film just doesn't do anything special with it. I just didn't care much for the drama, and since there's not much else here, the film wasn't a big success.