2021 / 124m - USA
Adventure, Fantasy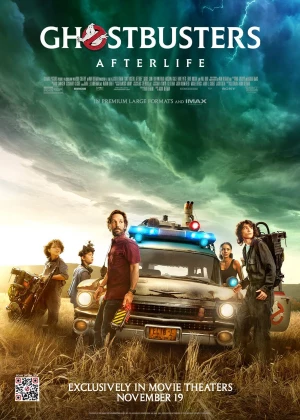 Good, which is much more than I expected from this film. I'm not a terribly big Ghostbusters fan and the all-female version was just a horrendous franchise update. For Afterlife, they stuck closer to what this series is all about: ghostly fun for younger audiences. And who better to take on this mission than Jason Reitman, son of Ivan, who directed the first two films?
The daughter of Egor inherits his house when he comes to pass. With no money to spend, she has no choice but to drag her two kids to a remote town and stay there. Phoebe (her nerdy, scientist daughter) bumps into some tech gear left behind by her grandfather, stuff she'll need when ghosts break free and terrorize the town.
The build-up is a tad slow, with some unnecessary winks to the original, but the setting is nice, the kids are actually half-decent and the atmosphere is spot on. Not too childish, but far from serious or explicitly comedic. It's just a fun adventure with ghosts and an appropriate amount of nostalgia attached to it. Reitman did well.