1946 / 110m - USA
Crime, Romance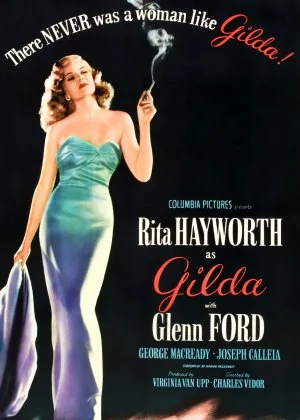 Gilda, a film built around Rita Hayworth. It's a pretty basic film-noir that doesn't really try too hard to set itself apart from its peer, instead director Vidor relies on the charm of Hayworth to carry the film. And I guess it worked, at least for people who are smitten by Hayworth's performance.
Johnny is a gambling trickster who gets caught by Mundson, owner of an illegal casino. Johnny convinces Mundson to hire him, what he doesn't know is that Mundson is about to marry Rita, an old acquaintance of Johnny. The two can't stand each other, but well ... we all know how that tends to end.
Though Hayworth tries, I didn't care much for her somewhat trampy character. She wasn't really the vamp she needed to be, and with the rest of the film not trying too hard either, the 110-minute runtime is pretty excessive. The typical noir clichés keep it somewhat interesting, but this was hardly worth its reputation.