Ha Luo Shao Nu
2020 / 81m - Taiwan
Drama, Thriller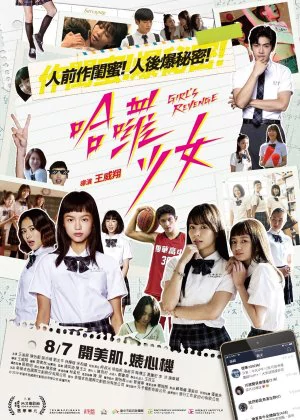 Films about bullying aren't that uncommon, but this one promised to mix in some thriller/revenge elements, so I was pretty interested to see how Taiwan would handle that. Taiwan isn't really known for its overly edgy cinema and that's exactly what this film ends up missing. Either some extra grit or a bigger commitment to the drama would've made this into a real masterpiece.
Yun-heng transfers to a new school after a rather nasty incident, there she befriends Li-chia. Ke-chien is also trying to butter up to Yun-heng, but her attempts feel shallow and dishonest. Yun-heng and Li-chia quickly become best friends, but when they go to a party together Li-chia ends up having sex with a boy, the next day a video surfaces online.
The cinematography is extremely stylish and performances are great across the board. The soundtrack is pretty atmospheric too, it's just the plot that feels a little toothless. The film's a bit too sweet and polished for the revenge to have a major impact. I think it would've been better if they'd just gone full drama. Director Weica Wang shows a lot of promise though, looking forward to her next film.