O Pagador de Promessas
1962 / 98m - Brazil
Drama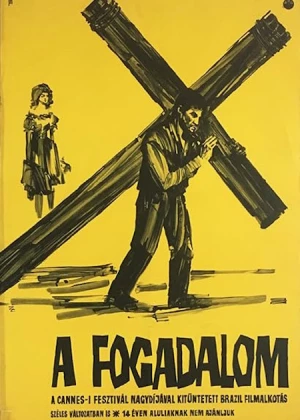 A film with neo-realistic tendencies, and some hefty Brazilian temperament mixed in. Oh, and there's also a strong religious base, which detracted from the experience for me. The notable cinematography and a few lively scenes prevent the film from being a complete dud, but I simply wasn't too taken with the lead's struggle.
Zé is a simple farmer. When his donkey falls ill, he prays to St Barbara to save his animal. In return, he carries a cross all the way to the big city. Once he arrives at his destination, the people there aren't too impressed with Zé's story and despite his good intentions, the priest of the local church paints him as the bad guy.
The church and its many steps make for an interesting, the stark black-and-white cinematography is above-average and the Capoeira adds a fun touch to the film. The struggles of the poor farmer were a lot less interesting and the more films like this I see, the more this somewhat simplistic rendition of poor vs wealthy starts to bother me. Not great, but it's certainly not all bad.