1995 / 130m - UK
Action, Adventure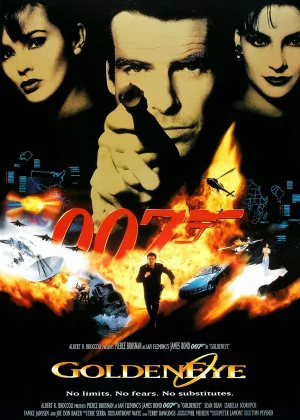 A return to form for Bond. After a short, 5-year hiatus the franchise returns with Brosnan in the lead and a lot more action to break up the crime/adventure elements. It's the first Bond film that feels like a true action flick, but it's also the first Bond where 007's often cheeky behavior is called into question. You can't have all the fun.
007 finds himself entangled into some good old Cold War nonsense again, having to fight the Russians for a weapon (the titular GoldenEye) that could destroy the world. It's a quest that takes him around the world and pits him against an enemy that has a personal grudge against Bond.
Brosnan is a perfect fit for the character, the bigger focus on action adds to the entertainment and there's enough goofy franchise drivel to make sure the film never gets too serious. It's newfound social consciousness is a bit ill-fitting though and Sean Bean is a dull bad guy, the Bond girls aren't great either. But after the Dalton Bonds, this was a breath of fresh air.