Gon-ji-am
2018 / 95m - South Korea
Horror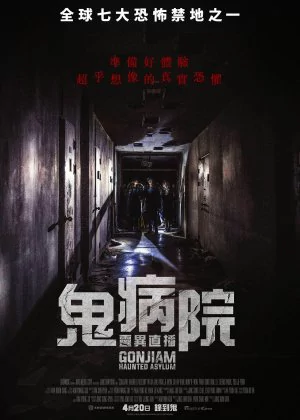 South-Korea does found footage meets haunted asylum. That means you'll be seeing a film that isn't even trying to win any prizes for originality, but as we're dealing with a core genre film that's hardly a surprise. The real question is whether the execution is on point, and luckily the film delivers.
Horror Times is an up and coming web series that wants to make it big. After finding a CNN article on the most haunted places in the world, they decide to visit the South-Korean entry on the list. It's the Gonjiam asylum, built during the 50s and completely abandoned 30 years later.
The setup's a bit long, but once the crew arrives at their destination things quickly heat up, with a good pay-off at the end. There's nothing here you haven't seen before, but the haunts are pretty creepy, the camera tricks are nifty and the performances are solid. Fine horror filler is always welcome.