2021 / 92m - USA
Comedy, Romance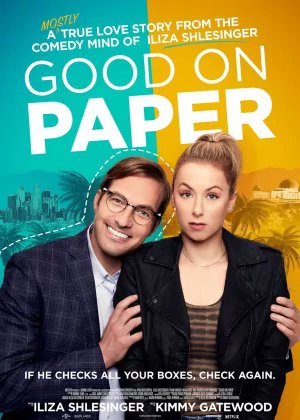 What's in a name. Iliza Shlesinger used her own life as a source of inspiration for this one, cleverly assigning herself a lead role. The premise of Good on Paper is clever, but that's where the good news ends. The lack of romance isn't a big problem, the lack of funny material on the other hand is damning.
Andrea is a semi-famous comedian with a decent career, but she can't land a breakthrough role. Her romantic life is pretty lackluster, until she runs into Dennis. He may look like a stiff, but he's attentive, witty and confident. Andrea enjoys his company, but doesn't consider him dating material. Yet.
The plot is extremely obvious, so it's a bit annoying that it takes ages for the characters to catch on. Performances are mediocre, the comedy is predictable and often feels forced and the critique on the male/female friction is way too obvious. It's a brave attempt, but the execution is really poor.