1990 / 110m - USA
Crime, Thriller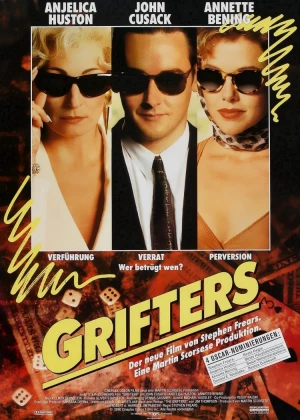 Stephen Frears has yet to impress me. The Grifters sees his tackling a more crime-based story, but the film fails to stand out in any way. It doesn't help that Cusack is there again, it's one of the few actors I really can't stand, but it's really Frears's saltless direction that lets the film down.
Roy is a small-time hustler who ends up in the hospital after a failed con. His mother works at the race tracks and meddles with the results, Roy's new girlfriend is also a con artist who makes good use of her body to trick men. Roy's mother and girlfriend don't get along too well, which is a real pain in the ass for Roy.
The performances aren't great, the cinematography and the score are dim and the plot isn't all that interesting. It doesn't help that the film is almost two hours long either. It's pretty generic genre fluff, I'm not entirely sure where the film got its reputation from, but it sure didn't stand the test of time.