Ginî Piggu 3: Senritsu! Shinanai Otoko
1986 / 39m - Japan
Comedy, Horror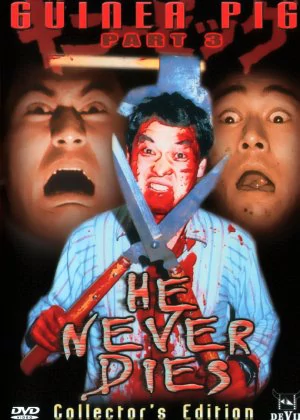 After some extremely grim and revolting films, He Never Dies brings some comedy to the Guinea Pig series. There's still plenty of gore here, after all that is the primary reason for this series' existence, but this time around there's also room for some giggles, dark as the comedy may be.
When a guy gets dumped by his girlfriend, he prepares to kill himself. When he finally cuts his wrists, it turns out he can't feel any pain. Somewhat surprised he starts to experiment on his own body, but whatever he tries, he doesn't seem able to be able to kill himself. Unsure of what to do next, he decides to take revenge on his ex.
The gore is decent and the comedy is good for some laughs, but the film's simply too cheap to be effective. Poor performances, ugly cinematography and some big pacing issues (like the lengthy introduction) take the fun out of it. It does get better as the film progresses, but it falls short compared to the other films in the series.