1950 / 87m - USA
Crime, Thriller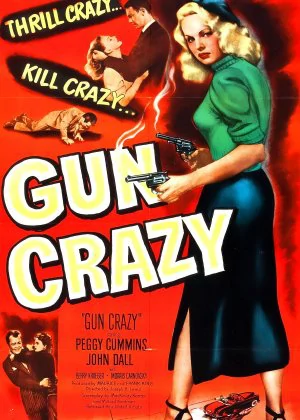 A pretty bland noir classic. After watching Detour last week my hope for the genre was slightly restored, the poster for Gun Crazy looked pretty inviting too, sadly the film is a big bore from start to finish. What you get is a cheesy and cheap prelude to Bonnie and Clyde, a film that didn't really do it for me either.
Annie is a gun artist performing at a carnival, Bart a wandering young man who instantly falls for the charms of Annie. It doesn't take long before the two hook up, but when they're both fired from the carnival things take a turn for the worse. Under Annie's influence they become criminals, with the law on their tail.
Peggy Cummins' performance is decent, John Dall on the other hand is a terrible stiff. There's really no chemistry between the two, which sucks as it's really all about them. The plot is pretty bare bones, the action is bland and apart from one or two scenes (the ending in the fog was nice) it's completely without atmosphere. A poor film.