1992 / 55m - Japan
Animation, Comedy, Horror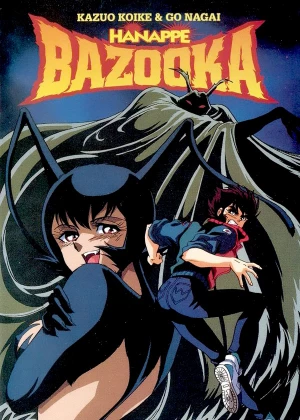 The kind of anime that gave its peers a bad reputation, though it's certainly not as depraved or grotesque as something like Legend of the Overfiend. Hanappe Bazooka is a product of its time, but it is made with a level of enthusiasm that is quite infectious. The keywords are fun and entertainment, and this short anime certainly delivers.
Hanappe is a young boy who is madly in love with one of his classmates. One night he has a little fun with himself, but he inadvertently summons two raunchy demons who see in him the next ruler of the planet. Hanappe isn't too interested in their ramblings, but the special powers he's been granted make it difficult to focus on his high school crush.
The characters are light and fun, the animation is surprisingly decent and the mix of silly comedy, harem antics, and demon horror is pretty outrageous. Clearly, this film isn't the greatest thing ever and if you're a bit prudish about nudity and/or horror (though the latter isn't that outspoken) you shouldn't even bother, but I had had good fun watching this.