Pahanhautoja
2022 / 86m - Finland
Horror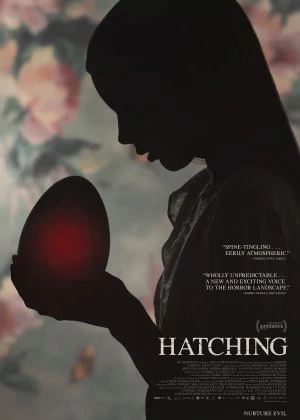 A fine mix of fantasy and horror. We're obviously getting symbolical horror here, I'd gather the film deals with growing up and losing one's innocence, with an extra focus on the mother/daughter relationship. Films like these are always in danger of neglecting their genre roots, but Bergholm doesn't fall in this all too common trap.
Tinja's mother is very demanding, Tinja tries to oblige as much as she can. When a bird flies into their home and her mother kills it with a smile on her face, Tinja feels something has changed between them. When she finds an abandoned egg in the forest she decides to hatch it, but she couldn't have imagined what's inside the egg.
The creature design is cool and well-executed, so are the body horror elements. Tinja's creepy fake-perfect parents are fun and there are some very memorable moments. Hatching is quite the debut, the only thing missing is a slightly more prominent directorial style. I don't think Bergholm pushed things far enough, but she sure deserves another shot. This was pretty great.