El Infierno
2010 / 149m - Mexico
Crime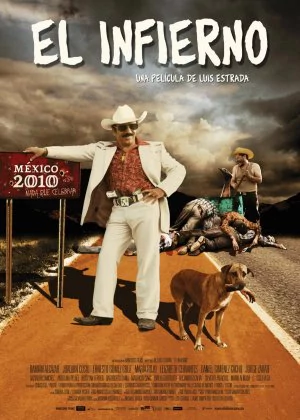 Mexican crime epic, that starts quite light and amusing, but ends on a much more serious note. I wouldn't go as far as to call it a comedy, instead the film seems to contrast the outwardly flashy appeal of criminal life with the harder truths that lurk beneath. Estrada's film is just a little too safe to make a big impact.
After Benny is extradited from the US, he ends up back in Mexico, where his life feels somewhat bleak and pointless. When his brother, a local criminal, dies in a drug feud, Benny takes over his brother's life and becomes a dealer himself. At first it seems like an easy way towards a comfortable life, but when Benny's boss gets into a conflict with another drug lord, people start falling like flies.
Performances are nice enough and the yellow glow gives the film some welcome flair. The first half of the film is pretty fun, when things get more serious though it quickly becomes clear that there's simply not enough meat here to warrant the epic scale and runtime of the film. Not bad, just a bit overblown in places.