2013 / 80m - Canada
Horror, Thriller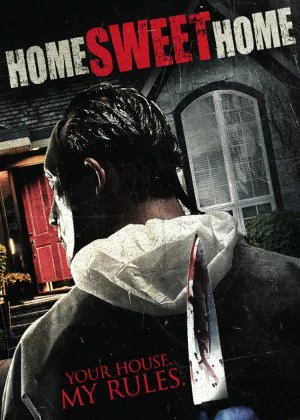 In the wake of the French horror wave, David Morlet released Mutants, a more than decent zombie flick which showcased the man's talent, but also bared some of his weaknesses. We had to wait a while before Morlet presented his second effort, but five years after Mutants, Morlet's second baby is finally here for us to enjoy.
Home Sweet Home is a pretty straight-forward home invasion movie, still Morlet manages to give the film its own, unique feel. Rather than follow the victims, the first part of Home Sweet Home focuses on the perpetrator. Well before a young couple returns home from their night out, the killer is already inside the house, exploring the premises and preparing his traps. He is meticulous and in control, leaving nothing to fate.
When the couple finally returns he hides in the shadows, waiting for the right time to strike. The pacing is slow yet deliberate. The camera work strong and precise, while the soundtrack makes for a great atmosphere. Sadly Morlet can't quite keep it up. The second half of the film switches perspective and follows the struggle of the victims instead. The killer loses some of his cool and the stand-off between him and the couple isn't as existing as it could have been.
It's not that the second half is bad, the exquisite styling remains and there are still some stand-out moments, but I felt the film would've been better if the mystery (and the supremacy) of the killer had been maintained until the very end. The detailed start of the film and the untouchable air of the psycho make for a superb setup, so it's a shame to see him fall of his pedestal later on. Still the film is much better than most horror flicks out there, Morlet has a great sense of style and dares to innovate, even if it's just in between the genre clichés. Horror gluttons will no doubt appreciate Home Sweet Home, others might not see the appeal.