Bal
2010 / 103m - Turkey
Drama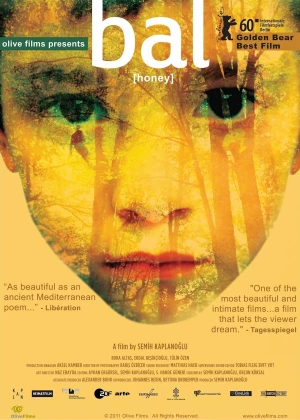 A slow, yet agreeable Turkish arthouse movie. So far, I haven't had too much luck with Turkish cinema, apart from a handful of random genre films. Their commercial and arthouse selection on the other hand left me wanting, the latter too wrapped up in poverty-drenched drama to get me hooked.
Yusuf is a young boy whose father Yakup is a beekeeper. He loves to join his dad when he tends to the bees. When they all disappear one day, Yakup moves higher up into the mountains in search of his livelihood. Yusuf decides to stop talking until his father returns. The longer his father stays away, the more worried Yusuf and his mother get.
The cinematography is delicate, while the setting is also less barren than usually the case. The plot is minimal and the characters don't really come to life, but there's a pleasant, comfortable atmosphere that makes it easy to lose yourself in the atmosphere. A bit step up from most other Turkish films I've seen so far.