Bou Fung Yue
2014 / 96m - Hong Kong
Thriller, Drama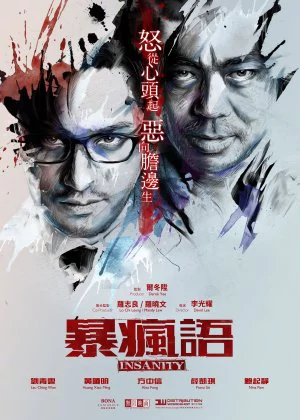 A fine Hong Kong thriller. Now that the output of Hong Kong has dwindled, it's the perfect time to look back and dig up the films I've missed out on. Insanity is one of those films that slipped by and watching it now made me realize how much I miss the Hong Kong cinema of a decade ago.
Fan suffers from schizophrenia. After killing his wife he ends up in the hospital, where he is treated by doctor Chow. After three years of therapy Chow decides it's time to release Fan, assuming he is fully cured. Many people disagree with Chow's choice, but he is confident he made the right assessment.
Ching Wan Lau turns in a great performance, Xiaoming Huang comes off a little too polished. The cinematography is excellent (beautiful use of color and lighting), creating a pretty tense and moody atmosphere. The plot is a bit predictable though and the balance between thriller, mystery and drama elements could've been a bit tighter. Not perfect, but very entertaining.