Jian Bing Cia
2015 / 113m - China
Comedy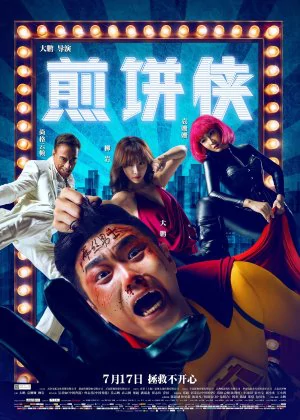 A pretty typical Chinese blockbuster comedy. Jian Bing Man is glossy, high-energy and sporting a wealth of cameos. There aren't too many explicit jokes, instead a somewhat wacky plot and light-hearted characters are meant to provide some giggles throughout. It's doing a pretty decent job too, but the lack of risk taking makes it difficult to stand out from the crowd.
Da Peng is a popular TV personality, who manages to ruin his entire reputation in a single night. He is left with nothing and decides it is time to chase an old dream: direct a superhero flick with himself in the lead. With almost no money to spend, he has to resort to some underhanded tactics to get his film finished.
The film looks pretty slick for a comedy, there are some rather big names in the cast (who don't mind poking some fun at their own persona) and the pacing is solid, even though the runtime is a bit excessive. It's very easy filler and there isn't a lot to actively dislike, it's just that it's all a bit too formulaic and predictable, and thus not very memorable.