1990 / 103m - USA
Crime, Thriller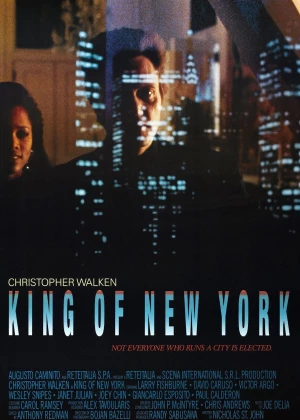 One of the more recent (as in, made since I was born) US crime flicks that had escaped me until now. It's not too big of a surprise, I'm not the biggest fan of the genre, but I had some hopes as this one was fronted by Christopher Walken. In combination with Ferrara's direction, it makes for one of the better crime flicks of its time.
When Frank White is released from prison he isn't ready to better his life, on the contrary. He wants to seize control of the Bronx. He is a hardened criminal who knows how to stand his ground, still, he is respected by the local people as he gives back to the community. More so than the police and politicians.
In essence, King of New York is a pretty basic crime/kingpin flick. But Walken's performance, the edgier hip-hop soundtrack, and Ferrara's subdued direction give the film that extra bit of much-needed flair. It's still not the most notable film, but compared to its direct peers, it's a pretty big stand-out.