2023 / 100m - USA
Horror, Mystery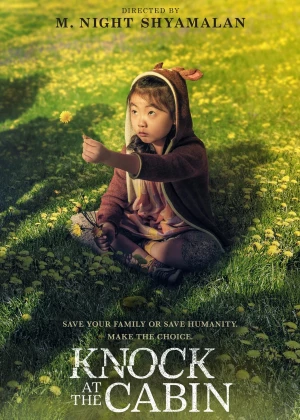 Shyamalan's latest feels familiar. A mysterious setup that slowly reveals its true nature. It's not quite as mysterious or surprising as some of his more recent efforts, but the quality is there. Within his oeuvre, it's not the most unique film, but nobody's making them like Shyamalan these days, and that definitely counts for something.
Wen is on vacation with her two dads, when a strange man shows up. He has three accomplices with him, the four come with a very peculiar offer and will do everything in their power to convince the others they're not crazy. Wen and her family will be forced to make some very tough choices, but the fate of the world rests in their hands.
Kudos to Shyamalan for the Kiki's Delivery Service shoutout, the premise is pretty cool (even though the finale is rather predictable) and the build-up is tense, as it should be. Knock at the Cabin is a small film that still feels relatively big, and had me in its grip from start to finish. Good fun.