Laissez Bronzer les Cadavres
2017 / 92m - France
Thriller, Action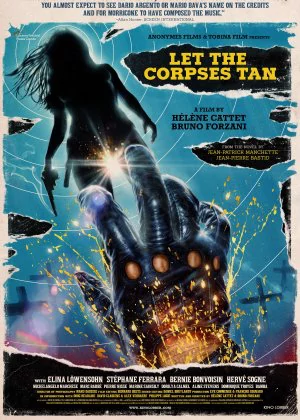 The latest Cattet/Forzani is probably one of the most conflicted films I've ever seen. It's both one of the worst and one of the best films I know, and it's like that from start to finish. It speaks for the talent of the directorial duo that they got me this far and it makes me wonder if they could push it even further.
My problem with Let the Corpses Tan is that I feel nothing for the film's influences. Cattet/Forzani are known for paying homage to cult/pulp of the 60s, 70s and 80s (think grindhouse, spaghetti westerns, Giallo), genres and eras I dislike with a vengeance. They don't really modernize these influences, but instead of tipping a hat or two, every single scene, every single moment is a hyper-stylized reference.
Cattet and Forzani take the ugliest cinema I know and do the coolest things with it. It's the weirdest feeling, I'm used to liking/disliking certain aspects of a film, but never at the same time and for the entire length of the film. It's cinema that deserves to be watched though. Completely unique, insanely stylized and impossible to compare with anything else out there. One of the most memorable films I've ever seen, but not a personal favorite.