2014 / 92m - Ireland
Horror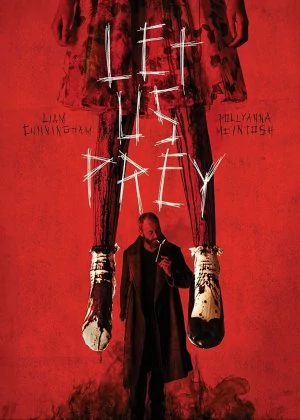 Don't. Don't go in expecting an elaborate plot, nifty narrative twists or stellar dramatic performances. Originality is not something that's high on O'Malley's list of priorities. Let Us Prey is a pure genre effort, 100% horror film and not ashamed to fully commit itself to that. Just deal with the shortcomings of the genre and what remains is a pretty cool horror flick that finds itself close to becoming a modern genre classic.
The collaboration between Ireland and the UK has proven a great source for quality horror films these past few years. Just think Citadel and Outcast. I feel Let Us Prey could rightfully claim its place amongst that elite gang, although it stops just short of reaching the same heights. The potential is definitely there though and horror fans will find plenty to enjoy.
The film follows a fateful night in a remote little commune. A dark figure rises up from the cliffs in the sea and strolls into town. He is hit by a car, but his body disappears into thin air. When he is finally caught and brought into the police station, his file reveals that the man died years ago. Not only that, this strange individual also knows exactly what buttons to push to irritate the people around him, landing him in jail even though he's done little wrong.
Visually O'Malley has things covered. From the very first frames Let Us Prey emits a very dark, gloomy yet stylish vibe. Strong use of lighting and shadows, well-timed slow motion sequences and effective camera work set it apart from its peers. The soundtrack doesn't let down either, adding to the menacing and grim atmosphere. This audiovisual mastery, together with some strong performances of Liam Cunningham (Harry Brown) and Pollyanna McIntosh (The Woman) form a solid basis for some very stylish horror antics.
The only problem with Let Us Prey is its somewhat dull and lifeless setting. Most of the film is located in the town's police station. A boring, rundown facility that loses its appeal halfway through. It's a shame because the little of the town and its surroundings we do get to see shows a lot more promise for a horror film like this.
The first part of Let Us Prey is pretty mysterious, with people trying to find out who the mysterious newcomer is. The second part brings the true horror. When O'Malley switches gears it quickly becomes clear that Let Us Prey has more to offer than just a moody atmosphere. Things run out of hand pretty fast and O'Malley doesn't shy back from showing a few gruesome kills. While the finale comes quick and hard, I did feel the horror part of the film could've continued for just a while longer.
Let Us Prey is a nifty little horror flick, packed with mystery, creepy characters and gruesome kills. The film looks great, sounds great and does pretty much everything right. It's a shame the setting is somewhat dull and underused, that's really the only thing holding it back a little. Hopefully O'Malley gets a second chance because he shows a lot of promise with his first feature film.