Mong Kok Gaam Yuk
2009 / 96m - Hong Kong
Crime, Drama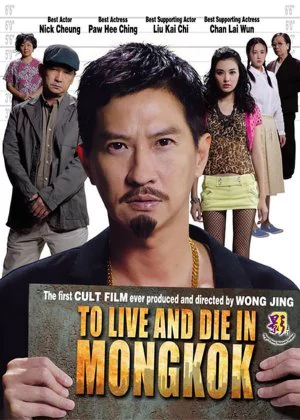 After a short hiatus, Jing Wong returns to the big screen with partner in crime Siu-Hung Chung to deliver a pretty unique crime flick, at least for something directed by Wong. A schizophrenic Triad killer returns to his old neighborhood after 30 years in prison. Meanwhile, his old gang friends are eagerly awaiting his return, hoping he can restore their former glory.
Nick Cheung does a pretty good job in the lead, Wong himself also makes an appearance, though acting really isn't his strong suit. Luckily Wong and Cheung make sure that the film has plenty of stylistic flair. Lots of filters and a very mobile camera make this a pretty visceral experience.
It wouldn't be a Wong film without several film references. Johnny To gets a tip of the hat and shlock fans are sure to recognize the Story of Ricky poster, but the funniest reference is one for Wong's own On His Majesty's Secret Service, released that very same year. Not the best crime film you'll ever see, but it's slick, modern and it comes with a nice twist. Solid entertainment.