1973 / 121m - UK
Action, Adventure, Thriller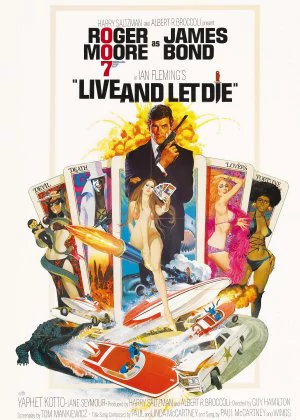 The first James Bond film with Roger Moore. I needed a little time to get used to Moore, I'm sure Moore also needed some time to grow into his part. Veteran director Guy Hamilton was there to make sure the franchise kept its signature feel and that's pretty much the bottom line of Live and Let Die.
Bond is sent to America to deal with a drug baron. He is kidnapped by a black gang who have roots in voodoo culture, which makes for a rather ominous start to the film. Once the back and forth between Bond and his enemies starts though it turns pretty goofy, which was quite the relief.
The start isn't all that great and Moore needed a little time to settle into his character, but the action scenes are some of the best in the series (the boat chase in particular stands out) and the second half is plenty cheesy (Bond jumping on crocodiles to cross a pond). The US setting isn't that exciting and the Bond girls are rather plain, but in the end this was pretty amusing.