Sora ni Sumu
2020 / 118m - Japan
Drama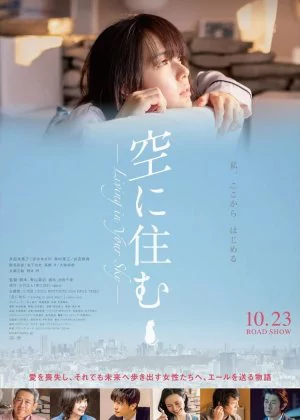 Shinji Aoyama's star slowly faded this past decade, so I was more than happy to see another film from him. Living in Your Sky isn't the most eye-popping drama, but it has some notable and contemporary elements that does set it apart from its many peers. It's not among Aoyama's best films, but fans of his work won't be disappointed.
Naomi is a young woman who works at a small publishing firm. A traffic accident kills both her parents, after which her rich uncle takes care of her and donates her a fancy apartment. Naomi is surrounded by caring people, still she feels lonely and uncertain about the next steps in her life. Then she meets Morinori Tokito, a popular actor living in her building.
This is a perfectly fine drama with a strong central performance, polished cinematography and a beautiful score, yet it lacks a bit of focus and some interesting details to make it really stand out, even though Aoyama did make an effort. There are so many Japanese dramas out there that you can't just settle for baseline quality, it would've been niche if Living in Your Sky would've pushed things just a little further.