Baak Nin Hiu Gap
2003 / 93m - Hong Kong
Comedy, Romance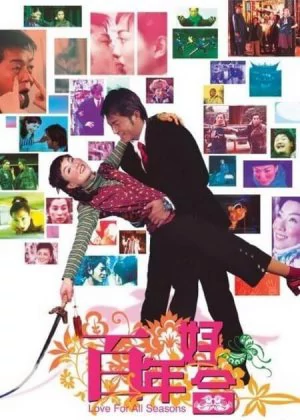 I expected quite a bit from this one. A Louis Koo/Sammi Cheng collab from the hands of Johnnie To/Ka-Fai Wai is difficult to mess up, but somehow the film tries a bit too hard and fumbles because of some unnecessary complexities it took on. Ambition doesn't always work in a film's favor.
May is a skilled martial artist who wants to learn the "Heartbroken Sword" technique. Her master pushes her to go out into the world and experience heartbreak firsthand, for that May consults Tiger Hung. A womanizer she helped out before and should be the ideal person to help break May's heart.
The film wants to be a full-blown comedy, which is tricky since it's dealing with heartbreak. The two objectives don't go well together, the somewhat overstated performances don't really help the film either. Some decent action scenes make sure this isn't a complete disaster, but I wanted a lot more from Love for All Seasons. Somewhat of a letdown.