Sakura no Yōna Boku no Koibito
2022 / 128m - Japan
Romance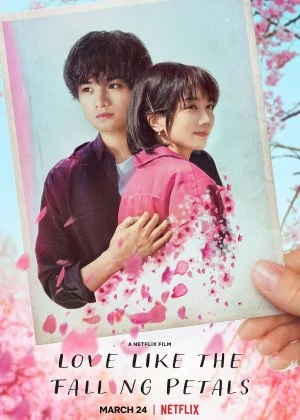 Japan can't get enough of tragic romances, especially when diseases are involved. This niche has been going strong for more than a decade now, and it seems there's still no end in sight. Love Like the Falling Petals is next in line, and simply delivers what people want from the genre.
Haruto is a wannabe photographer, but he doesn't have the confidence to chase his dream. He falls in love with Misaki, a hairdresser, who only wants to date him if he takes his passion seriously. The two become an item, but then Misaki is diagnosed with a terrible illness. Ashamed, she breaks off the relationship.
What starts off as a sweet romance quickly turns into a hefty drama with no chance of a happy ending in sight. Performances are okay, the cinematography is slick and the soundtrack is passable, it's just that I don't really care much for these types of films. It's all a bit too sentimental to be truly powerful. Not the worst of its kind though.