Rupan Sansei: 1$ Manê Uôzu
2000 / 91m - Japan
Animation, Crime, Comedy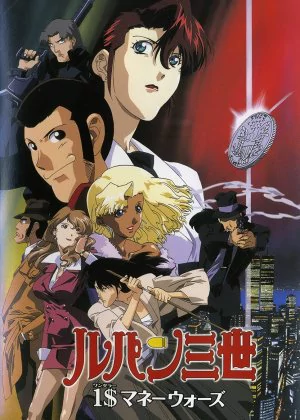 Far from the best Lupin III film. I prefer his lighter, more adventurous and sillier work. Though I wouldn't describe Missed by a Dollar as overly serious, there's a darker edge that doesn't really fit the series. Neither does the stock market plot for that matter, though I can understand it can get a little tricky trying to find an original setup this many movies into a franchise like Lupin III.
Lupin's bid for a unique ring fails after someone outbids him a single dollar. Lupin decides to steal the ring instead, but a malicious banker is on his tail and forces Lupin to hand the ring over. The ring contains a vital clue to find a legendary broach, so Lupin isn't going to give up so easily.
The entire crew is here again, Lupin is up to his usual tricks (including a fake death) and the ending is one big reset. After so many films, it can get a little difficult to discern between individual entries. The animation is not that great and the art style a little basic, but fans of Lupin III will get their money's worth. Okay filler.