Rupan Sansei: Harimao no Zaiho Wo Ee!!
1995 / 90m - Japan
Animation, Adventure, Comedy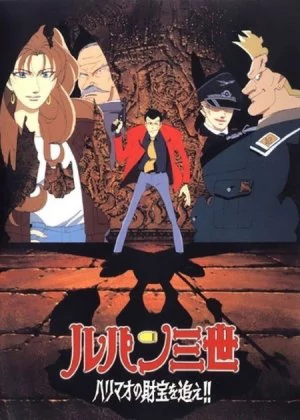 A Lupin III film by Osamu Dezaki, not a director I'd immediately consider for the Lupin franchise. Then again, this series has always attracted odd and atypical directors (remember Miyazaki, Suzuki, Koike), so it's not that big of a surprise. Don't expect a typical Dezaki film though, this is just another Lupin episode.
The Lupin films all follow a very similar setup. Lupin is chasing yet another high-profile treasure, working with and against the usual crew of familiars, plus a couple of random bad guys. It's a weird and animated bunch who all get entangled in a complicated quest to find the treasure.
The film holds a perfect balance between adventure, action and oddball comedy. It's a shame that once again the animation is quite poor. Monkey Punch's style doesn't really demand complex detail, but it would benefit from more intricate animation (as Miyazaki and Koike proved). Still, good fun, much like most other films in the series.