Rupan Sansei: Towairaito Jemini no Himitsu
1996 / 92m - Japan
Animation, Adventure, Comedy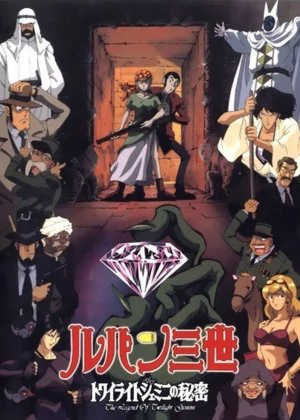 A Lupin III film helmed by legendary anime director Gisaburô Sugii. You're forgiven if the name doesn't ring a bell, but Sugii directed his fair share of remarkable films. Don't expect him to stray too far from the Lupin III template though, while the film is a tad more explicit than the ones I've seen so far, it's still very much a typical Lupin flick.
Another entry in the Lupin franchise, another treasure to hunt down. This time Lupin has to find the two half of the Twilight Gemini, a jewel that, when united, will reveal the hidden treasure of the Gelt clan. His quest takes him to Morocco, where he'll have to fight off more than a handful of adversaries.
The soundtrack is pleasantly jazzy, the voice acting is solid and even though the animation quality is rather basic, the distinct art style makes it fun to watch. If you've seen a couple of Lupin films you should know what to expect, but with the Lupin franchise that's hardly a negative. Pretty solid entertainment.