2022 / 100m - UK
Horror, Fantasy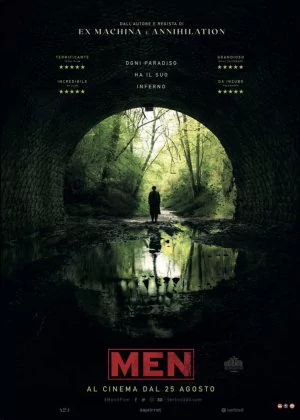 Alex Garland's latest reads like a very expensive tweet. It feels as if every other horror film I watch these days is some flaccid social critique, not something I find very engaging. The A24 glazing is getting pretty stale too, either that or Garland isn't really suited to do this type of dark mystery/surrealism.
Harper rents a luxurious house in the countryside, hoping to get away from some traumatic events in her past. After a walk in the woods she bumps into a strange, naked man, who ends up in front of her doorstep the next day. It's the start of increasingly distressing situations that slowly put Harper over the edge.
I usually appreciate a film that goes completely off the rails in the final act, but stylistically Men is rather poor, even though it's visibly straining to be as atmospheric as possible. The effect simply isn't there. The underlying themes are equally bland and disappointing, which makes for a pretty grotesque failure. At least the ambition was there though.